Changing Trends in Bedtime Story Reading Habits of Children: A Comparative Study of African and European Children's Literature
Keywords:
African, bedtime story reading, children, European, literature
Abstract
Children are often inspired by tales, rhymes and songs of various kinds globally. Mostly, children in developed countries are exposed to cartoons online and puzzles that tell stories. Before the emergence of modern technology in Africa, parents and teachers spent time with children under ten years telling them stories that were so inspiring and motivating. Children used those moments to build on their vocabularies and also learn great deal of lessons from such stories. Today, technological advancement has influenced the moments that children share with their teachers and parents in listening to stories. Hard copies of bedtime stories with attractive pictorial presentations on some events in the content and on the cover gradually replaced the traditional way of sending these stories across to children. The study adopted a desktop literature review method (desk study). This study further used a humanistic approach to textual analysis while researching and writing this essay, compared to a behavioral approach, which would involve evaluating the bedtime story reading habits of children with the influence of changing trends in technology. The drawing and interpretation of observations and sense which is not a quantitative impact evaluation, was important in this context.
Adamson, L. B., & Bakeman, R. (1984). Mothers' communicative acts: Changes during infancy. Infant Behavior and Development, 7(4), 467-478.
Adrian, J.E., Clemente, R.A. & Villanueva, L. (2005). Parent–child picture-book reading, mothers' mental state language and children's theory of mind. Journal of Child Language, 32, 673–686.
Alvermann, D. E., Moon, J. S., & Hagood, M. C. (1999). Popular Culture in the Classroom: Teaching and Researching Critical Media Literacy. Newark: Internatl. In Reading Assn. and Natl. Reading Conf.
Anderson, J. R., & Bower, G. H. (2014). Human associative memory. Psychology press.
Ann Evans, M., & Saint-Aubin, J. (2005). What children are looking at during shared storybook reading: Evidence from eye movement monitoring. Psychological science, 16(11), 913-920.
Axell, Cecilia. (2017). Technology and Children's Literature. 10.1007/978-3-319-38889-2_66-1.
Biemiller, A. (2001, January). Building Vocabulary: A Key to Reading Success. In Norma Broussard Memorial Reading Conference (January 2001).
Blake, J., Vetere, A. & Vitale, G. (1996, April). Shared book reading in Italian-Canadian mother–infant dyads. Paper presented at the International Conference on Infant Studies, Providence, RI.
Bogue, R. (2007). Deleuze's way: Essays in transverse ethics and aesthetics. Ashgate Publishing, Ltd.
Cunningham, P. M., & Allington, R. L. (1996). Schools that work: Where all children read and write.
Ertem, I. S. (2010). The Effect of Electronic Storybooks on Struggling Fourth-Graders' Reading Comprehension. Turkish Online Journal of Educational Technology-TOJET, 9(4), 140-155.
Fairclough, N. (2003). Analysing discourse: Textual analysis for social research. Psychology Press.
Fletcher, K. L., & Reese, E. (2005). Picture book reading with young children: A conceptual framework. Developmental review, 25(1), 64-103.
Futures, D. S. (1996). A pedagogy of multiliteracies: Designing social futures. Harvard Educational Review, 66(1).
Houston, C. (2011). Digital books for digital natives. Children & Libraries: The Journal of the Association for Library Service to Children, 9(3), 39-42.
Karrass, J., & Braungart-Rieker, J. M. (2005). Effects of shared parent–infant book reading on early language acquisition. Journal of Applied Developmental Psychology, 26(2), 133-148.
Leff, M. (1992). Things made by words: Reflections on textual criticism.
Lewis, R. B., & Lewis, R. B. (1998). Assistive technology and learning disabilities: Today's realities and tomorrow's promises. Journal of learning disabilities, 31(1), 16-26.
Livingstone, S., & Helsper, E. (2007). Gradations in digital inclusion: children, young people and the digital divide. New media & society, 9(4), 671-696.
Magara, E. &Batambuze, C. (2005).Towards a reading culture for Uganda. African Journal of Library, Archive and Information Science, 15 (1), 35-42.
McArthur, D., Adamson, L.B. & Deckner, D.F. (2005). As stories become familiar: Mother–child conversations during shared reading. Merrill-Palmer Quarterly, 51, 389–411.
McKee, A. (2003). Textual analysis: A beginner's guide. Sage.
Moody, A. K. (2010). Using electronic books in the classroom to enhance emergent literacy skills in young children. Journal of Literacy and Technology, 11(4), 22-52.
Mulindwa, G. (2001, August). Can reading research in Africa be done in isolation? The influence of Literacy, education, publishing and the book industry on reading in Africa?. In 67th IFLA council and general conference.
Ninio, A. (1983). Joint book reading as a multiple vocabulary acquisition device. Developmental Psychology, 19(3), 445.
Ofcom (2014) Children and Parents: Media Use and Attitudes Report, Available online from http://stakeholders.ofcom.org.uk/market-data-research/other/researchpublications/childrens/children-parents-oct-14/
Ortiz, C., Stowe, R. M., & Arnold, D. H. (2001). Parental influence on child interest in shared picture book reading. Early Childhood Research Quarterly, 16(2), 263-281.
Payne, A. C., Whitehurst, G. J., & Angell, A. L. (1994). The role of home literacy environment in the development of language ability in preschool children from low-income families. Early Childhood Research Quarterly, 9(3-4), 427-440.
Pylyshyn, Z. W. (1973). What the mind's eye tells the mind's brain: A critique of mental imagery. Psychological bulletin, 80(1), 1.
Radesky, J. S., Schumacher, J., & Zuckerman, B. (2015). Mobile and Interactive Media Use by Young Children: The Good, the Bad, and the Unknown. Pediatrics, 135(1), 1–3. doi:10.1542/peds.2014-2251
Raikes, H., Alexander Pan, B., Luze, G., Tamis‐LeMonda, C. S., Brooks‐Gunn, J., Constantine, J. ... & Rodriguez, E. T. (2006). Mother–child bookreading in low‐income families: Correlates and outcomes during the first three years of life. Child development, 77(4), 924-953.
Reed, S. K. (2012). Cognition: Theories and applications. CENGAGE learning.
Reinking, D., McKenna, M. C., Labbo, L. D., & Kieffer, R. D. (1998). Handbook of literacy and technology: Transformations in a post-typographic world. Routledge.
Rideout, V. (2014) Learning at Home: Families' Educational Media Use in America, The Joan Ganz Cooney Centre, Available from: http://www.joanganzcooneycenter.org/publication/learning-at-home/
Scarborough, H. S., & Dobrich, W. (1994). On the efficacy of reading to preschoolers. Developmental review, 14(3), 245-302.
Silver-Pacuilla, H., Ruedel, K., & Mistret, S. (2004). A review of technology-based approaches for reading instructions: Tools for researchers and vendors. (National Center for Technology Innovation). Retrieved from http://www.cited.org/library/site/docs/AReviewTechnology-BasedApproaches_final.pdf
Spear-Swerling, L. (2018). Off Track: When Poor Readers Become"" Learning Disabled"". Routledge.
Sternberg, R. J. (2003). Cognitive theory (3rd ed.). Belmont, CA: Thomson Wadsworth.
Strasburger, V. C., Hogan, M. J., Mulligan, D. A., Ameenuddin, N., Christakis, D. A., Cross, C., & Swanson, W. S. L. (2013). Children, Adolescents, and the Media. Pediatrics, 132(5), 958–961. doi:10.1542/peds.2013-2656
Tomasello, M., & Todd, J. (1983). Joint attention and lexical acquisition style. First language, 4(12), 197-211.
Trushell, J., Burrell, C., & Maitland, A. (2001). Year 5 pupils reading an interactive storybooks on CD ROM: Losing the plot? British Journal of Educational Technology, 32(4), 389-401.
Wells, G. (1985). Preschool literacy-related activities and success in school. Literacy, language, and learning: The nature and consequences of reading and writing, 229-255.
Whitehurst, G.J., Falco, F.L., Lonigan, C.J. et al. (1988). Accelerating language development through picture book reading. Developmental Psychology. 24, 552–559.
Zhang, M., Trussell, R. P., Tillman, D. A., & An, S. A. (2015). Tracking the Rise of Web Information Needs for Mobile Education and an Emerging Trend of Digital Divide. Computers in the Schools, 32(2), 83-104.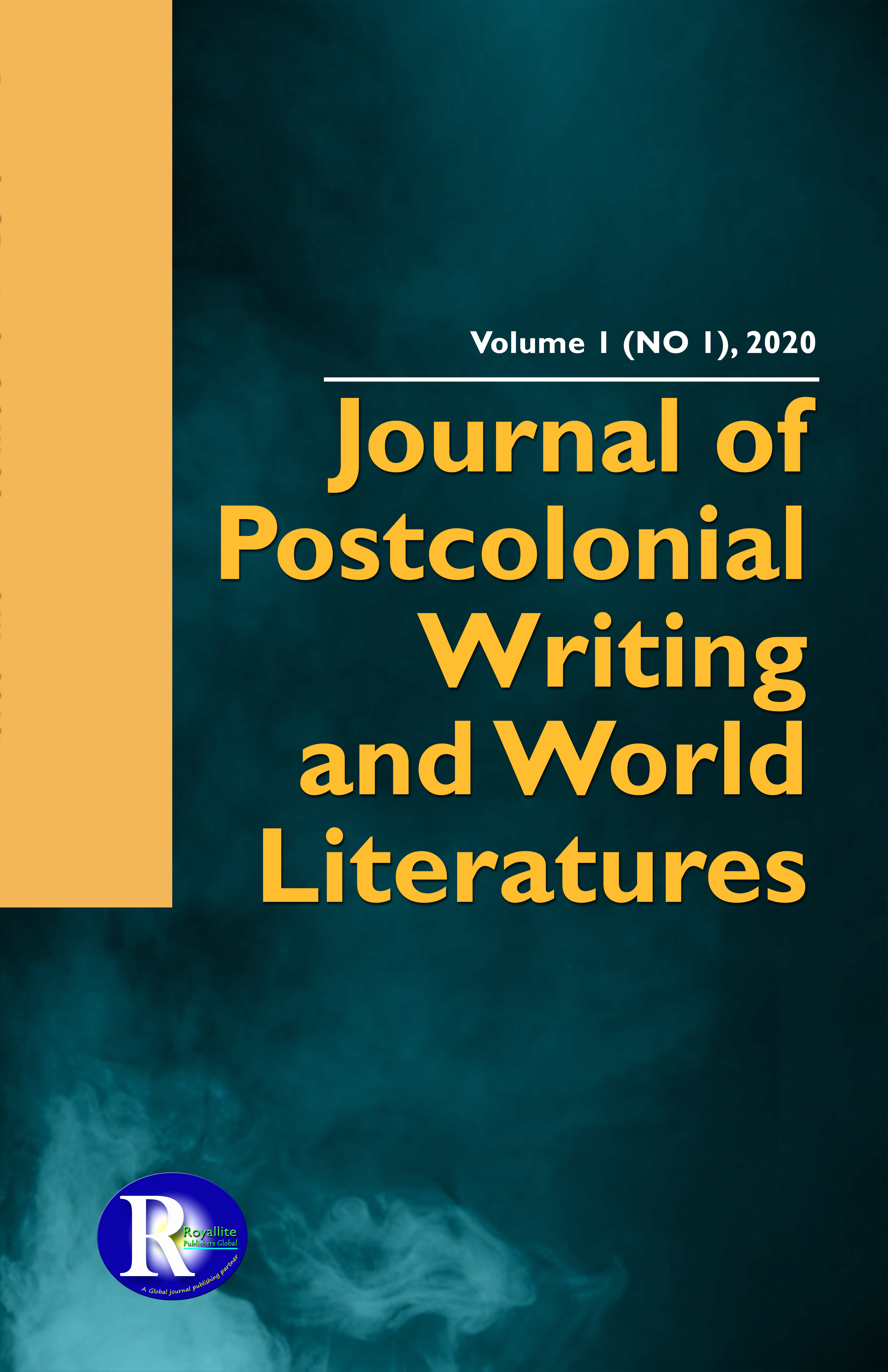 How to Cite
Duhoe, A. A. A., & Adansi, J. E. (2020). Changing Trends in Bedtime Story Reading Habits of Children: A Comparative Study of African and European Children's Literature. Journal of Postcolonial Writing and World Literatures, 1(1), 65-81. Retrieved from https://royalliteglobal.com/world-literatures/article/view/121
Copyright & Licensing
This open-access article is distributed under a Creative Commons Attribution (CC-BY-NC-SA) license.
You are free to: Share — copy and redistribute the material in any medium or format.
Adapt — remix, transform, and build upon the material for any purpose, even commercially. The licensor cannot revoke these freedoms as long as you follow the license terms. 
Under the following terms: 
Attribution — You must give appropriate credit, provide a link to the license, and indicate if changes were made. You may do so in any reasonable manner, but not in any way that suggests the licensor endorses you or your use. 
No additional restrictions You may not apply legal terms or technological measures that legally restrict others from doing anything the license permits.
Most read articles by the same author(s)